Father Spared Our House from Fire
Care Moreland - 06/25/2013
Hi, everyone! I wanted to share this praise report with all who prayed and stood in faith for God to spare our home and family during the recent California "powerhouse" fire.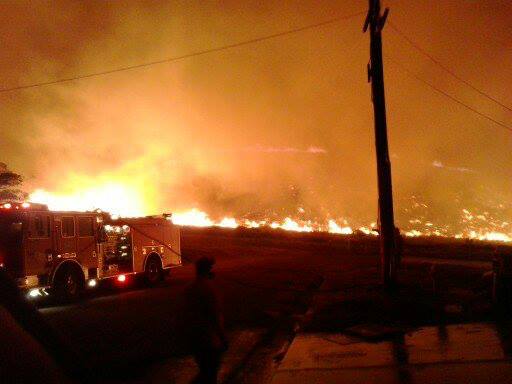 On Saturday, June 1st we were on our way to have dinner at one of our local mountain restaurants. Up where we live, there are many areas where you lose cell phone service. Just as we were approaching one of those areas, we received a call from our neighbour.
Frantic and worried, he told us that the wind had suddenly changed direction and the fire was racing down the hill, pushed by the wind, toward our homes. We made a U-turn and headed back to our neighbourhood. The smoke began to grow thick while the sky was bright red. To see a raging fire on the TV or in a picture is one thing, to be in its physical presence is another.
My entire family made their way to our second floor balcony. To our shock, the flames had jumped the lake and were heading toward us.
Immediately, I called Sister Deb Horton, asking her for prayer and to please contact UBM with a prayer request. Deb then called David and he told her to have us point at the fire and command it to, "Stop in the name of Jesus!" And that is exactly what we did. Standing in faith, we proclaimed that not ONE house on our street would be touched by the flames.
I sent this photo as a witness that the fire literally formed a straight line and stopped at the beginning of our street!
The wind was whipping and the fire was all around us but not one spark or ember crossed that line.
The other night, I spoke to one of our neighbours and he told me the fire department stood there and watched it come over the hill and did nothing! The fire chief told him that it was totally out of control and they were unable to defend the structures. Even the sheriff's department had evacuated the area; there was nothing more they could do but stand there and watch.
But then, who needs the fire department to defend you when you have the KING of KINGS and the LORD of LORDS on your side, right?
Over the next several days, signs and banners popped up all around our community, each one singing the praises of the firemen. I, for one, know to Who I am thankful. I witnessed the nand of God holding back those flames and to Him goes all the glory! Praise be to Him and Him alone.